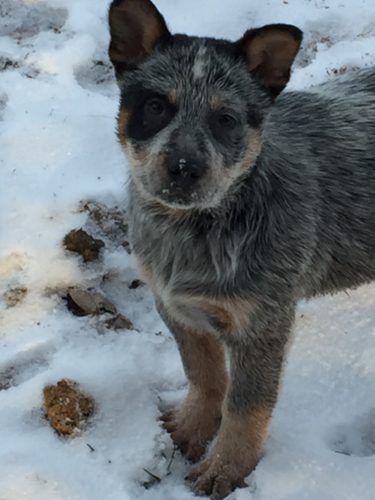 Red Heelers / Blue Heelers     "The BEST dog you'll ever have"
We are now at our ranch in Estancia,NM. Close to Albuquerque,NM.
If you want a great dog that is ranch raised with excellent temperament, and is smart and willing, you have come to the right place !
Parents work daily and are always eager to go. They are just as eager to play with our small grand kids.
Our AKC Australian Cattle Dogs (or ACD) come with a background of excellent pedigrees. Our heelers have been genetically tested by Optigen for PLL and PRA to ensure your pup will not develop Progressive Retinal Atrophy or Primary Lens Luxation. Baer testing is also utilized so that you may be confident in your pups ability to hear.
Traditionally, heelers have been used to work cattle, but they can do so much more! With athleticism as their primary trait, they excell as running partners or hiking the trails with their master.
Try one of our Australian Cattle Dogs and you will never go back!